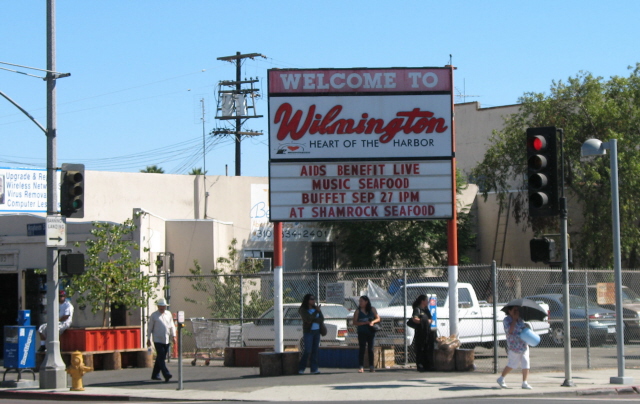 Thank you to those that were able to make it to " Dislexicon" this past Thursday @ MOCA. Our little video turned out okay despite the fact it was homemade stilo and we only had a two week period.
Raul Vasquez and Karla Diaz appear in our movie as random characters. They came out and performed spoken word on stage immediately after the movie.
The movie is old history of Wilmington California as well as street history with an art twist check it out.
More after that dark corner…
Slanguage- Walking the streets of Wilmington

Walking the Streets of Wilmington
The narrative was old text from a brochure written by Wilmington Chamber of Commerce from around the 1960s'
We thought what they has wrote was awesome because they said some wonderful stuff about Wilmington which today sounds a bit obsolete.
Here are some kind words from the brochure.
Romance and adventure wind through the streets of Wilmington-touching the life of every resident, making Wilmington one of the most interesting and exciting communities on the West Coast (Wolfer)
Bordered on the west by the Pacific Ocean, Wilmington is a sea-loving community…close to all beach and ocean activities. US Highway 101 (Pacific Coast Highway) runs through the city taking residents south to San Diego and north to San Francisco and beyond. (Wolfer)
We still had to keep it real and display some of the down-turns Wilmington took during more recent years.
During the 1980s' and early 1990s' Los Angeles experienced some of the toughest times with crime, gangs and drugs. In Wilmington it was no different the rivalries between the east side Wilmas and the west side Wilmas gangs was intense. Many lives were lost to bullets or drugs, a dark time for the "The Heart of the Harbor"
A gang injunction against the east side and west side Wilmas gangs was placed on March 19, 2004 which has worked at dramatically decreasing gang violence. With this and help of caring people in the community Wilmington has started to look up again.
Photos of War and Street Soldiers… death in the 90's and 1800's
Wilmington Cemetery
L.A. Historic Cultural Monument 414
22 Civil was Soldiers buried here
The Wilmington Historical cemetery is not only a resting place for civil war soldiers who fought a war for freedom, but also for street soldiers who lost a war to violence.
Peace
Doña Junta