I was copied on the following email by east-side artists who have been working on Mayor Antonio Villaraigosa's Summer Night Lights project, now in its 2nd year.  A week ago the Mayor visited the Jordan Downs housing Project (pictured above) for a press tour.  Artists have worked diligently to provide what they could with their own resources to children who have no other summer alternative.  I took this picture above and witnessed how crucial art is to inner city youth who are starving to learn and desperately need patient mentorship.  –Victoria Delgadillo
FROM: Community Artist, Apprentices, and Master Artist/SNL 2009
RE:Â Summer Night Lights (SNL) Contract
DATE:Â September 2, 2009
To Whom May It Concern,
We the artists of the SNL Gang Reduction Program demand immediate payment for our services.  Many of us turned down other work to be a part of this important effort. The SNL programs success is majorly due to the arts component that is present at all 16 parks.  We all depend on this – this is our work, we have committed ourselves not only to our craft but to our community to provide the services they all deserve. Likewise we deserve to be treated as professionals in our field of expertise.  The Arts community is one of the most effected groups from the current economic downturn and continue to be disregarded by this neglect on the part of the City of Los Angeles.
The experience working hands on with the community has been remarkable. Many of us artist have gone through various lengths and have over exceeded in order to sustain the art, music and dance workshops for Summer Night Lights. For example, asking our colleagues, friends and organizations to donate materials, paying directly from our pockets, swiping our credit cards, borrowed money for equipment and materials. Although we have been partially reimbersed for materials, we have not been paid for our time and professional experience.  There has been a significant amount of preparation, time, planning and effort to make SNL a success. Our efforts have over exceeded our expectations and requirements.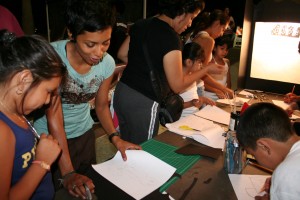 The latest press release sent out on August 24th regarding White House Conference on Gang Violence and Crime Control states the following: "U.S. Attorney General Eric Holder praised Mayor's SUMMER NIGHT LIGHTS program as an innovative approach to reducing gang violence." This press release illustrates the success of the program however on the other hand we are outraged that we have been left in the shadows; we have been left to fend and find innovative methods to implement and succeed on our own without proper compensation. We have not been paid for our services or materials and equipment.
The contract clearly states that the Department of Cultural Affairs and the Mayors office will provide modest budgets for materials and equipment, we were told by, Michelle Berne, DCA of a budget cut from our original proposal for equipment and materials, soon after we received 25% of our materials budget three weeks into the program. SNL is now in the last week and we have not received not a single payment for our services.
We need answers today, via email, letter and a follow up phone call.
Thank you for your time and effort in bridging our communities thru the arts.
Sincerely,
SUMMER NIGHT LIGHTS 2009
MASTER ARTIST, COMMUNITY WORKERS, AND APPRENTICES