A few months ago I participated in a graffiti art show called Fin De Semana. I did a photo and written display on a place called Third World. I just wanted  to share the installation in a blog version. I framed most of these photos, but I added ones not included in the show.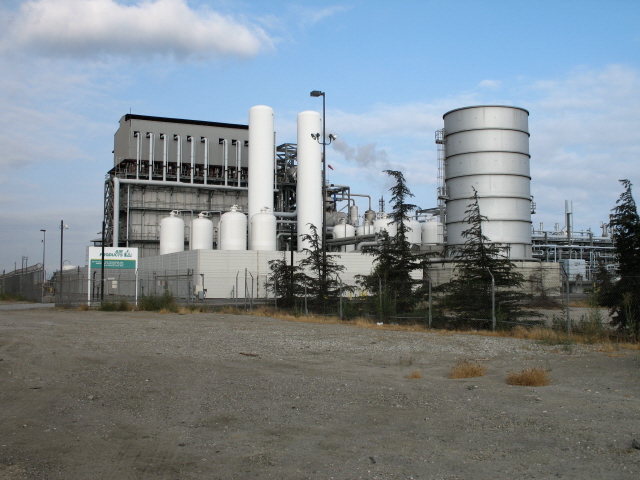 More after the jump
Third world is an industrial pocket located in the Eastside of Wilmington California.
Known to most locals as a bleak place with a bad reputation, the gritty unpaved roads, and years of salvage material junkyards contribute to the Third World like feeling.
According to a 1995 Daily Breeze news article, police and local businessmen in  the area started calling it "Third World".
Back in the days it was a scary place to go to. It was known as a big drug haven full of homeless camps, prostitutes, and just dark illegal activity.
One could look down any of the street's and see trash cans on fire and people walking around like zombies.
Often time's  the people that owned one of the many auto wrecking businesses would live on their property in order to keep thieves away.
Third World is also home to a small neighborhood on M street.
M street is the only street amidst this industrial blight that is home to a few families. When I passed by I was surprised that houses even existed around here. I asked myself  "why anybody would want to live next to junk yards and refineries?"  As I was looking around I spotted one interesting house. It was full of random trinkets and rod iron ornamentation. The man living in the house was Mr. Huerta and he has been living on M street for the past 30 years. He runs his business out of his home doing iron work.
He said it is not as bad as it used to be, and the noise of the car dismantling neighbors is the norm. He said when ever they have parties it is great because they can block off the street with no problem.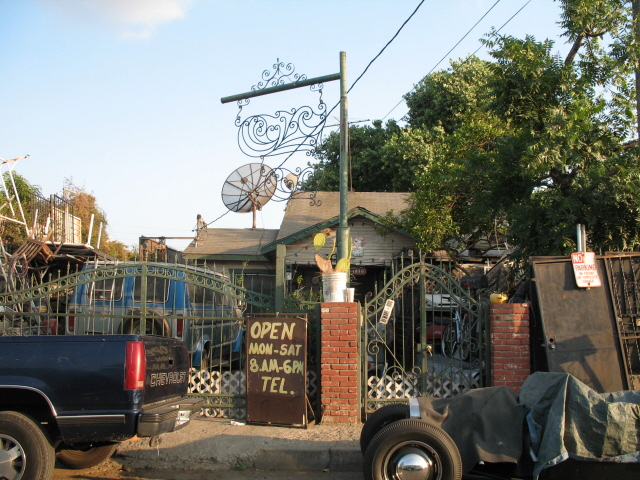 To my surprise one of our fellow crew members once lived on M street back in 1995. That was the same year two bodies where discovered murdered execution style in a van down the street. The murder of two Ramona's Bakery employees which till this day is left unsolved.
Third World now is left different, but still the same in some ways.
Refinery smoke swirls in the air topped with heaping portions of semi exhaust. Dingy strip clubs light up the night with plenty of testosterone to go around.
Sleazy but eazy strip club
Abandoned bathroom
Abandoned phone booth
art around the place 2007
Female graffiti artist Opea rocking it 2007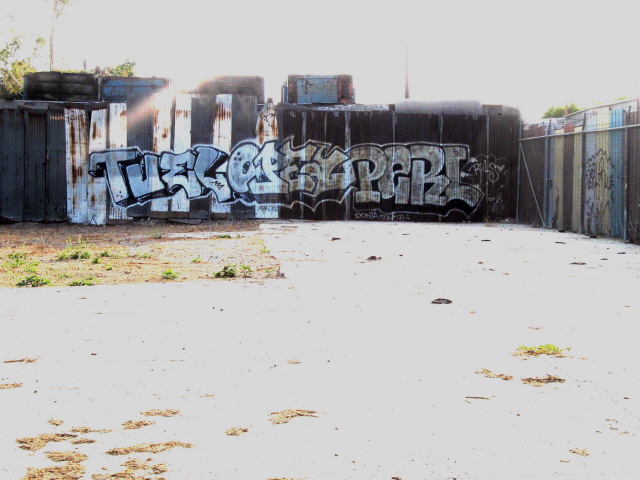 Group Collaborations 2007
It has no meaning to most  people, and it might actually be  a place people would want to stay away from, but it has been a dirt and corrugated fence playground for graffiti artist's and the FDS (From Da Streets)  crew.
In the last six years the city has pushed much of the drugs and homeless out of the area. There is less violence as well, but after 20 years of chaos all that is left are metal remains of empty lots and plenty of walls to express creativity.
Nobody seems to mind the graffiti as much in comparison to Third World's past. The colors on the walls give this place a new life. Third World has and will always be and been an important instrument for FDS and other graffiti writers, we can go there anytime and feel at home.

Third World Blurbs:

I asked a few people I knew that grew up and gone to the area what they thought of when they think about Third World. Here are a few responses.

"Crack heads, homeless, stinks, all dirty, fucked up roads, dead people, and wild dogs everywhere." "There are all kinds of different people on every drug, which makes lots of money for the drug dealers." "Sometimes it is scary as fuck, need a strap."

Wood's ESW

"Third World is a  nice dirty place to be in."

"That smell leaves trails, pinches fabcricas and TV's for crack."

"Bum's offering crack ready to do any trade off."

Ekore 777

My Third World

Grimy, Beautiful, Dirty, Landscaped, Llantas, Rosebushes, 18-wheelers, Beamers, Corrugated fences, hand painted signs, Noisy freights, Silent nights, Homeless crack heads, Buxom vixen strippers, Perverted paisa's, Mi gente, G-rides, Car Truck Washes, Roach coaches, Orange & Avocado trees, Train tracks, Random roads, East Side Wilmas, History, Abandoned, Discovered, Empty lots, Landmarks.

Third World reminds me of how the future will be, mechanical and frigid, a sort of terminator world with metal skeletons. Watch out for the loose dirt, loose dogs and the loose crack heads! I remember driving in on a random sunny Sunday, posting up next to an empty lot with a 12-pack of Coronas, selecting the paint, climbing the fence and just grabbing' the lot. No one was around and it was so quiet. I remember thinking of wanting to BBQ right there and then, nothing like carne asada with some chelas.

I remember driving to Third World right after work on random days to see if my spots were still up, some where. I remember when this area was virtually unknown to many and my spots would last longer. It never failed to see something new. It would be around 6:15 pm, the workers around the areas were ready to leave home after their shifts were over and I would drive in and out the cuts. I would park my car, scope out the areas, grab paint and I would paint like 5 to 6 trucks that evening. Spots-on-wheels. Super chill.

I remember seeing this one makeshift wooden panel sign in a huge empty lot with black spray paint scrawl that read something like this: "Don't you dare come in this lot. This is a private lot! If you climb this fence, I will see you and I will blow your fucking head off with my shotgun!!!" or something like that.

OPIA-FDS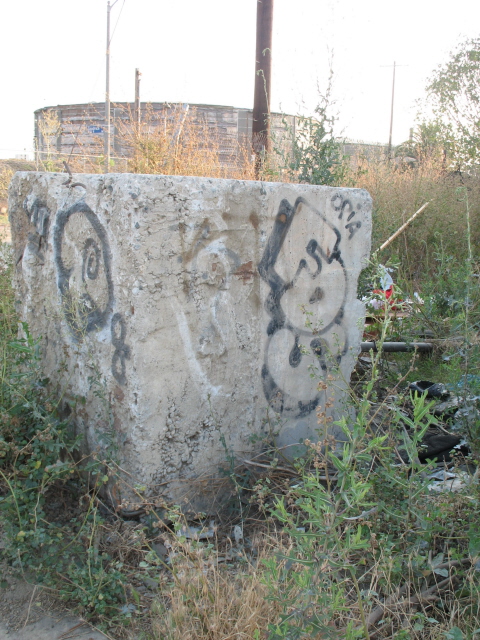 News article I mentioned about the murder on M Street.
Couple's slaying perplexes police, family

Daily Breeze (Torrance, CA) – Wednesday, December 27, 1995

Author: Tomas J. Lewis

Rutilio and Rosa Ramirez lived quiet, anonymous lives, driving each day to the small Italian bakery in San Pedro where they worked and then back home to the crowded Wilmington cottage they shared with their three children.

Rutilio Ramirez, 42, a baker for Ramona's Bakery, kept to himself and knew few of the merchants or other employees along the busy Pacific Avenue business district where he had worked for the past 15 years.

Having worked there less than a year, Rosa Ramirez, 37, a cake decorator, knew even fewer people.

"I don't know their names, but if I saw a picture of them I'd know who they were," said Evelyn Doyle, a hairdresser for 10 years at Joe's Barber Shop across the street.

The couple disappeared about 2 p.m. Friday after stopping at their employer's San Pedro home to pick up bags of clothing and dishes for a trip to Mexico. Their bodies were discovered in their van Saturday evening. Both had been shot in the head execution-style, police said.

The Ramirezes also had planned to stop Friday afternoon at Coast Federal Bank on Pacific Avenue to withdraw money for their Christmas Day trip to Michoacán, Mexico, relatives said.

Not sure of details

Police aren't sure the couple ever made it to the bank.

"We still haven't verified whether they withdrew money," said Detective Rudy Lemos of the Los Angeles Police Department's South Bureau Homicide Division. "A lot of people think it's robbery, but we're not even sure of that at this point."

Police learned of the disappearance about 1:30 a.m. Saturday, when one of the couple's teen-age children called police to report their parents missing.

The couple's plight remained a mystery until about 5:30 p.m. Saturday when Wilmington resident Nolberto Huerta looked inside a blue 1973 Chevrolet van parked near his house in the 1800 block of East M Street and discovered the bodies.

"I opened the passenger door, and I saw a man's body kind of sitting in the driver's seat but slumped over onto the passenger side," said Huerta, who has lived on the same block for 16 years.

He called his son over, he said, and the two of them took a closer look and saw a woman's body lying in the rear of the van.

Police said both victims had been shot in the head at least once.

"They still had their wallets and purse with them, but we're not sure if they had any money," Lemos said.

The couple may have been forced at gunpoint to drive to M Street where they were killed, he said. "They drove here," he said, "but we don't know whether they drove here (by themselves) or somebody followed them here."

Isolated area

The van was in a mixed residential/industrial neighborhood in front of the Paramount Forge storage yard, about 20 feet from the Texaco Oil Refinery's property line on Goodrich Avenue.

"This is an isolated place," Lemos said. "Whoever did this is probably familiar with the Wilmington area. This street is off the beaten path."

Investigators want to talk to anyone who may have seen the Ramirez's blue van at the bank Friday afternoon or traveling east or west on Pacific Coast Highway between Goodrich and Alameda about noon Saturday.

"They were hard-working people," said Anthony Amalfitano, co-owner of Ramona's .

"I don't think they had an enemy in the world. They were just two quiet Christian people who would come to work and go home at the end of the day."

On Tuesday afternoon, as relatives met with representatives of the Mexican Consulate to make arrangements to fly the bodies home to Michoacán, the couple's sister-in-law, Lydia Magana, spoke of the family's devastation.

"We want to know why was it done and who did it this terrible thing."

Section: LOCAL
Page: B2
Index Terms: NEWS; HOMICIDE: SHOOTING
Record Number: 0000602254
Copyright (c) 1995, Daily Breeze, All Rights Reserved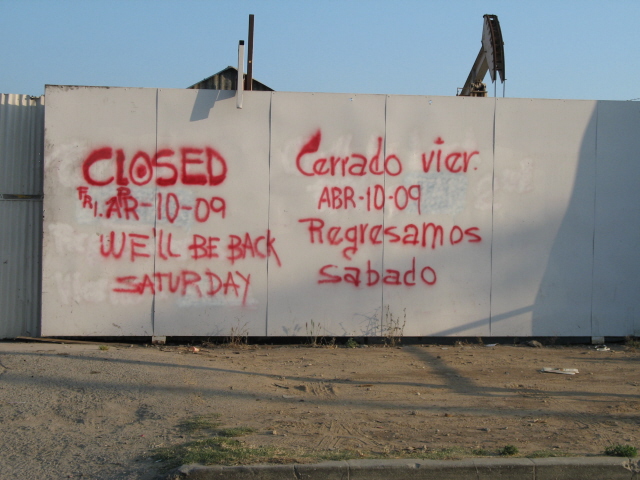 The business people even spray paint their own stuff haha
The roads are mostly still dirt or not repaired.
More abandoned stuff
Goodbye from Third World…
To see pictures of the show check out my flickr page here.