Victorian house on North Broadaway, Lincoln Heights. A perfect place for a Lincoln Heights Historical Museum, dontcha think?
Botanitas is an ongoing feature bringing you stories and news from various sources, upcoming events and other bits of ephemera that might be of interest to LA Eastside readers. Suggestions welcome!
Click thru for a stories about the hardly-working class, DIY cheese, firme rolas, Flamenco therapy and ghost trains. Woowoo!
Update 8/21: Honk 4 Health Care Vigil 5pm Today Cesar Chavez @ Soto
Honk For Health Care Barrio Vigil Rush Hour Today 5pm – 6:30pm at Cesar E Chavez Blvd and Soto Street – help rally Latino support for Health Care Reform – Support President Obama against right wing attacks!
Unemployed class has lots of company
So you think it's just you who can't find a job? Nope, it's the whole city. According to the LA Times, Los Angeles in one of the worst cities in the nation for finding a job. I remember not too long ago when Los Angeles was one of the easiest places to find employment. It was a time when folks like me didn't feel like they had to hold on to their jobs with their dear lives.
Swapmeet Cheese
Health officials don't want you to eat delicious cheese. They are cracking down on DIY cheese makers because they say it might be harmful to your health. But tell me officials, who else will supply us cheese gourmands with authentic Quesillo Oaxaqueno? That weak, milky stuff from Cacique ain't gonna cut it!

New Lincoln Heights 7-11 stocks the essentials
Okay, it's late at night. You got your girl/guy in the car, heading home and you're craving that something special to get in the mood. Hmmm, what would make the night extra memorable? Yeah…some firme oldies! But where you gonna get some tunes this time of night? I got the spot! The new Lincoln Heights 7-11 on North Broadway and Eastlake (gulp!). They got a whole display of music to help you cruise your ranfla into the dark Eastside night!
Flamenco eases your troubles away

Flamenco + Nino de los Reyes ~ direct from Madrid , Spain
with Encuentro Latino
Sunday, August 23, 2009
7:00 doors open (Reception –Drinks + Tapas available for purchase)
8:00pm Flamenco Show featuring Nino De Los Reyes
9:30pm Concert featuring Encuentro Latino + Open Dance Floor
Tickets – $25 presale by August 18 – $30 at the door
General Seating
Highland Park Ebell Club
131 South Ave 57
Highland Park, CA 90042
Parking available in adjacent metered lots and street (metered until 9pm)
For more information contact: www.encuentromuscia.net or call 818-588-2377
FEATURING: Nino de los Reyes
Jesus Montoya
Gabriel Osuna
Gerardo Morales
Angelo Salazar
Mateo Amper
Johnny Sandoval
Kambiz Pakandam
Briseyda Zarate
It's true, good Flamenco can make you forget your troubles. You can thank me later for this bit of knowledge.

El Tren Fantasma
Ooo, sounds a bit scary but totally fun!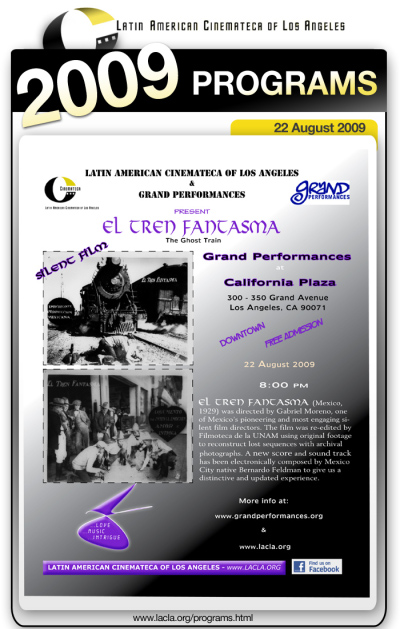 More items to be added as my memory defogs…