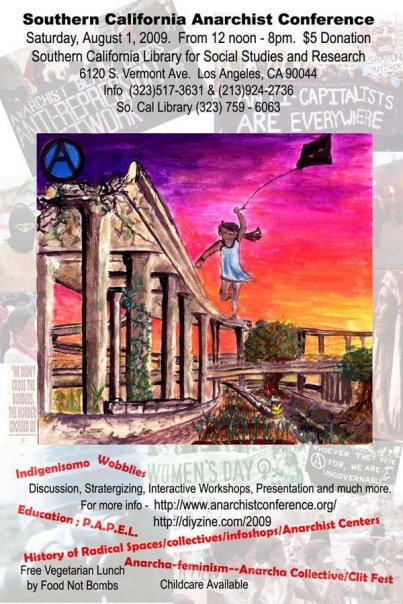 http://www.anarchistconference.org/
The Southern California Anarchist Conference– a weekend long conference centered on anarchist and its anti-authoritarian tendencies as uniquely manifested in the southern California. Collectively we hope to show past & present examples of anarchist ideas in practice, through speakers, panels, workshops, images, theater, music, film and non-coercive socializing as they intersect in the everyday struggles against coercive power, capitalism and the state.
Saturday, August 1st 2009 CONFERENCE
(workshops, strategizing and networking sessions)
12:00-8:00PM at the SoCal Library
6120 S. Vermont Ave. L.A. 90044
$5.00 suggested donation; no denied entry.
Sunday, August 2nd 2009 FERIA LIBERTARIA
(Art, music, theater, food, tabling, and more!)
12:00-8:00PM UCLA Downtown Labor Center
675 S. Park View St. L.A. 90057
FREE!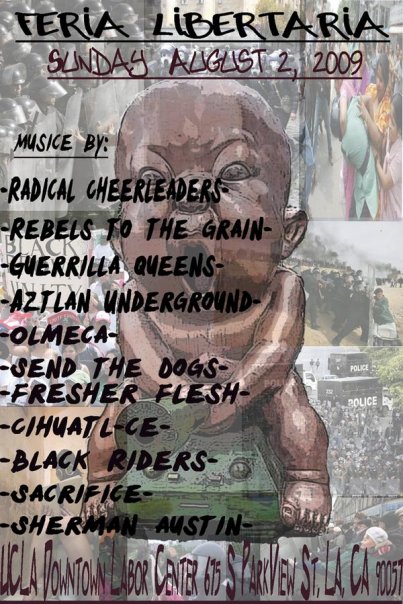 For fans of mobile vegan taqueria, Asi Soy Tacos, there is a rumor that they will be selling tacos outside the conference on Saturday!