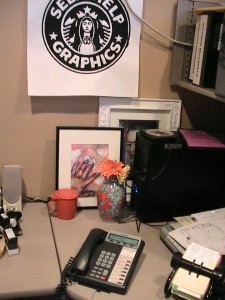 I love oriental ancient wisdom and philosophy—it amazes me that parallel to western ways, there's a non-abrasive system to work on the whole physical body, including its surroundings, and (the best part) most of it cost nothing. I know for some who have been deeply ingrained with Christianity, there is nothing more a poor unconnected person can do, but suffer and die. I made up my mind early in life that suffering was not my identity. I began to dabble in many non-traditional ways of creating good around me and using whatever methods I could for manifesting positivity.
About a month ago, after having a sore throat for months and huge piles of projects that I hadn't gotten to, on my desk—it struck me that I had forgotten to use my non-traditional knowledge for assistance. I could create the peace I wanted in my life by creating a serene work environment using Feng Shui. Feng Shui (pronounced "Fung-Shway") is an ancient Chinese system of aesthetics believed to use the laws of both Heaven/astronomy and Earth/geography to help improve one's life by bringing in positive energy called qi (pronounced "chee").
The principles of Feng Shui are common sense based—but maybe they are things we don't usually ponder. For example, the simplest idea is, if you want something in your life, you have to make room for it. Easy, right? If you want a relationship, does the way you live support someone fitting into your life? Is your home inviting, and is there space for someone else to fit in-or is your home overwhelmingly stuffed with your things and your taste, making guests feel like intruders? When your environment is cluttered with mementos and overwhelming amounts of items, you stop the energy flow that is essential to bringing new things into your life. There is no room for anything else.
There are several schools of thought as to how to find your Wealth, Health, Love, Career, Creativity, Friendship, Fame, Knowledge and most important Helpers areas in your office, home, yard, neighborhood, city, etc. There is even a convenient map called a Bagua that shows you how to divide your space for optimum results.   Check out the areas and see how your desk, your room, your home, your whole yard relates to these areas. Do you have a picture of a skeleton, a leaky faucet or a dead plant in your wealth area? All these things symbolize scarcity and waste.
So I started off on a small scale Feng Shui fix. I spend a whole day cleaning my desk—setting up little pictures, flower arrangements, groupings, certificates, the radio, lights, pens, the telephone— everything in a way that would support what I want in my life. I couldn't move the telephone to my wealth area, in anticipation of an important phone call from the lotto board about my winnings, or news about being granted a huge sum of money—but I did add a few items that represent abundance and placed a postcard of the Guggenheim Museum in my fame area, because I dream big!
A day passes and I get a pay raise—yep, in the middle of this economic crisis. Then I get an email from an art colleague telling me that I am being nominated for a community volunteer award. A week later, my in-box is getting smaller and smaller, because all of a sudden I get all these volunteers coming by to assist me with my work, so I am pretty much just overseeing the progress. I am getting so much done–woo hoo! So in my abundant free time I've been getting great ideas too, on how to get my artistic goals met on my terms. New people are coming into my life and wanting to collaborate with me—and weird, but my sore throat is almost gone. There must have been a steady silent scream inside me that couldn't get out. Everyday, I am waiting for more good things to happen, as I work on things that bring me pleasure and happiness. I don't know exactly what the next fulfilled desire will be, but I am open to it's arrival and excited by the thought of another great surprise. Now, before I go home I straighten out my desk and keep it the model of how I want to live my life—surrounded by all the things that inspire me and remind me every moment that anything is possible.