I am kind of sick of all this gentrification speculation about the Eastside being white-washed. It will take a lot more Clorox and wood-fire baked pizza to change East Los than yuppies have yet to offer in the American Southwest, so I don't sit at home biting my nails that Nana will be evicted (well actually, she won't, the house was paid for by Tata's VA loan for pre-storming Normandy in WWII).  Even so, chuppies (chicano yuppies, a.k.a.  chicanos with degrees) have already gentrified these areas, but they are ingrained in the cultura and still buy elotes, so it isn't as much a hard fit (in fact, I would say the same about Whites who are genuinely down with these areas).  Not that the genuine concerns of locals doesn't matter or isn't valid, but I think we need to focus on the tangible changes gentrification has already brought to the Latinoscapes of Los Angeles, specifically the Eastside's center of gravity: Downtown.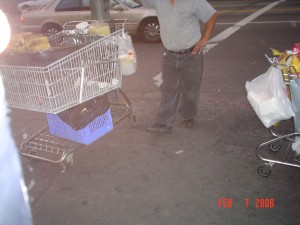 I am actually ALL for the demographic diversification of Los Angeles; even my beloved Eastlos with all its sheltered ethnic enclave delights.  The truth is the quality of life in East Los has degraded since its multicultural times of yore, and although ignorant pundits of conservative mantras have tried to pin it on Mexicans since the decline coincided with the rise in Latino immigration; it is much more obvious that the downward slide had much more to do with the middle class drain on the community that began with White Flight and continued with the ban on segregated housing covenants in 1955 (thats when my grandparents moved to the newer Maravilla housing tract on the Monterey Park/East Los border, as did many East Los middle class residents).  Along with the decline in more economically stable residents, came the decline and eventual outright withdrawal of Corporate America, and the amenities that come with them, from this area.  This decline in economic revenue as well as citizens with the resources to devote their extra time and energy to improving the community had a devastating toll on the community.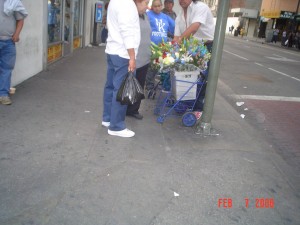 We hear a lot of folks get all riled up about people talking down about the Eastside and rightfully so, there is prevalent history of those from better off places talking about the area in judgmental negative terms or outright exaggeration of the problems of the community for various agendas.  The East Los area has a beautiful history and community that has withstood unsurmountable obstacles while still holding its identity and social fabric intact for the most part, and because it isTHE epitome of Chicano Cultura in the Untied states and has been for the past half century. That is something to truly be proud of; it is for me as a 3rd generation East Los native; through my blood and activities/behaviors is instilled in my children and theirs.  My familia has celebrated gritos at City Hall for 5 generations (which we have all viewed from the same Eastside perspective), has eaten at Manuel's since it opened, has buried several generations between Calvary, Evergreen and Resurrection, and has had "mi vida loca' imprinted on their wrist for 3 generations. I spent time at Eastlake Juvenile Hall and Nelles just like my pops and tíos, who visited Corcoran just like tata and my tíos, who served time just like tata and his dad who was a Yaqui guard at Florence State Penn in Arizona.  That is a true Eastside story and tradition, and eff all the pretentious judgment about that being a bad representation: its Eastsider history that is real.  We also were the campesinos picking in the fields, the pachucos and war vets, the cholos, the chicano pride teens running around the moratorium, the union vet and the pelón causing desmadre.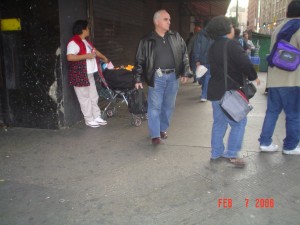 That last pic was of a viejita looking out for the policía. The next one is of a guy I befriended because he worked next to another vendor I came quite fond of.  She looked just like my little sister, and one time I stood by her old location at 6th and LA street for over an hour until she had no clientele. She was 6 months pregnant and was bursting at the seams, the crazy factor was high that night, so I put extra change in my meter and kept an eye on her till she was picked up.  I was pretty faithful to her corner for a year or so as she'd bring the mocoso around with her, and often talked to her.  The last I saw of her she was ducking la juda for just trying to serve people food at the same corner about a half year ago, dodging the bike cops by running her mobile cart into the shopping maze she stood in front of. I wonder how she's doing…
Anyways, back to my rant about the tangible effects of gentrification in Downtown. I winced when I couldn't get pirated CDs on the stroll, but was not too sad when the hooker tract in front of the tower theater or the Cholo Dope Gallery on 5th/6th ended with more diligent policing.  It was nice that those things ending on B'way coincided with my kids being old enough to get scared from illicit street activity, or the hard core illicit activity, But what about the fucken hot dogs? You see all the locals whistle and call when the chota approached, these flics of Broadway were taken a few years back during that transition. When the outright open bazaar atmosphere was being unlocked by the crowbars of gentrification, that tiny window of time between when Latino vendors had to live in fear of the outright control of illicit criminal enterprises and when cops took over the area and began harassing local vendors out of their bread 'n' butter.
That last pic was MY Broadway. The Broahweigh my grandparents bought the same hot dogs from, and their kids, and their kids, and my kids until quite recently. You'd think a hot dog being cooked off a baby stroller or shopping cart with a metal tray and sterno cans would imply "eat at our own risk", but apparently not to our powers that be or the merchants that complain to them. I miss these guys, and now have to drive to undiscussed locations in outlying barrios to get my fix.
::DEEP SIGH::
Anyways, I'll leave the post with a positive image of Broadway used for the empowerment, rather than oppression, of brown folks, taken by me from a pole at La Gran Marcha a few years back.  I was going to Cal Poly back then and gathered a few like minded classmates to ditch for a class or two, it was worth it:
Those open days are gone on MY Broadway, No more hot dog vendors AT ALL. Heck, they even are hiding the illegal pets in the callejones, what world is this? How about fixing the big fucken problems before you go all out on the small ones?  The store fronts of these lofts on Broadway remain the major deadspots on the strip, so how the hell are these people supposed to be wanting vibrancy when the one vibrancy catalyst is aggressively attacked?