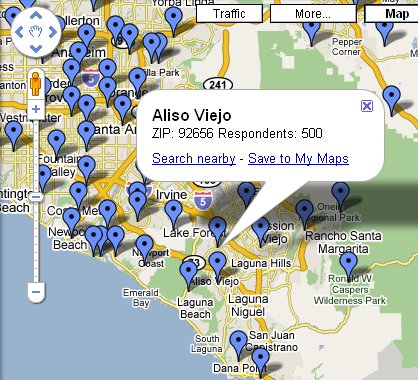 If you go by the raw numbers on the USGS.gov site, one might conclude that rich people felt the quake more than working class people, even though it happened in Inglewood.
The USGS.gov site has a cool feature where you can submit a quake report describing how it felt. You fill in your zip code, and some info about how much things were damaged, or not. During the recent quake on Sunday night, they collected more than 4,000 reports.
As you might expect, this received data was biased to come from upper-middle-class people, and probably younger people. I'll leave it to the comments to speculate about biases. Details and links after the jump.

The data set I discuss here was from the night of the quake. Much more data has come in, and I'll work on updating as time allows.
The degree of difference in the numbers was pretty large. Aliso Viejo, an area next to Laguna Beach and Laguna Hills, far from the epicenter, topped the list at 500 respondents. Conversely, zip codes in areas like Compton, Bell, and L.A. had around 10 to 50 respondents, despite being close to the epicenter (and probably more populous).
I took the data and mapped it via Google Maps and Google Earth. So you can mouse around and "take a tour" of who is "wired" and who is not "wired."
A quick web search for "digital divide" revealed something surprising: people don't care anymore. The issue came up in the mid 90s, and then again around 2000, but, today, the policy-wonk-writers haven't said much about the domestic digital divide. Much of the attention is on the third world.
To be certain, there is a global digital divide between our "postmodern" or late-capitalist country and the third world, but, there is also a domestic one. When useful government services like USGS.gov are used ten times more (or more) by rich people than poor people, there's a problem.
Click to view the map in Google Maps. You'll have to zoom in to view the markers.
Click to download a file that you can view in Google Earth.