Last weekend we chanced upon this small collection of protest signs against Stater Bros Market in Whittier, so we stopped to find out some details. Basically, if you look poor or "different", then you might get harassed. Something many of us already know but I think it's worth some attention.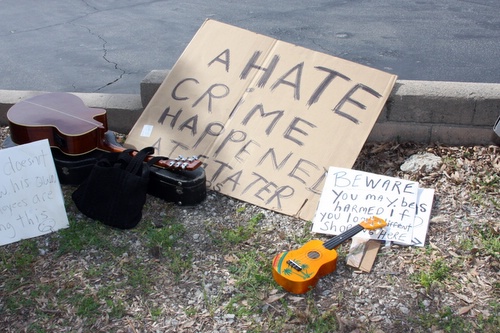 According to Steve Alvis of an advocacy group known as HIPPS, this is what happened: on September 24, 2008 Ralf Field, a man that looks different because of some facial tattoos, was using the public restroom at the Stater Bros Market. Even though he is a regular customer, store employees pegged him as a shoplifter and started demanding he leave the restroom. But instead of waiting, they used a key to unlock the restroom, barged in on him and proceeded to wrestle him to the ground via a chokehold. When the Whittier Police showed up, they found no stolen merchandise on Ralf and was let go. Despite that, he was "banned" from the store. Or so I'm told.
What do you do when you get unfair treatment from a public place that should treat all people with respect? This group decided to call attention to the situation.  At first they just wanted an apology, now they're fighting to get Stater Bros to retrain their employees so that they don't needlessly tackle customers. They plan on being there again tomorrow, Saturday March 7 at around 10 am, where they expect a much bigger crowd. One of the protesters mentioned that there is a homeless community around this area, so this sort of selective harassment  against "different" looking people seems to be aimed at them.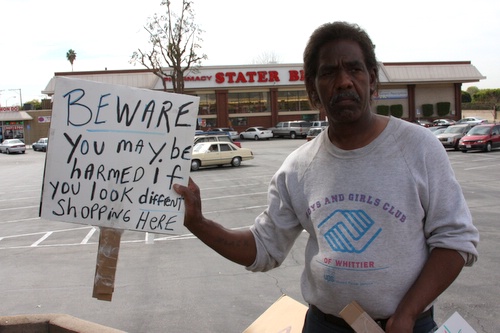 If you're in the area tomorrow, stop by and say Hi. They could use the support.