The landmark street sign for long time Eastside favorite "CHRONI'S FAMOUS SANDWICH SHOP" recently fell victim to a "hostile makeover."
The former original version had featured a flickering neon outline that animated the doggie's wagging tail and tongue. The new flat paint job reduces the sign to a shadow of it's former self. By simply filling in the original outlines with bright primary colors instead of attempting to restore the original design, the management continues to further alienate us purists by continuing a string of Chroni's atrocities such as putting lettuce in the hamburgers.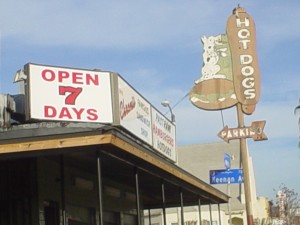 As an avid preservationist and historian, I lament yet another loss of our city's original flavor. My only consolation at this point is that I had managed to document images of the original version.
The original Chroni's sign now becomes yet another bit of L.A. history that we'll have to find in some future coffee table book. (Sigh) At least we'll have the pictures, and the memories…………….