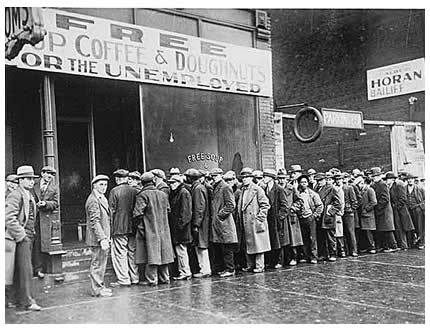 When I was 25 I got divorced. The reasons for the divorce included lots of factors, but one of the factors that really helped the down fall of the marriage was my ex-husband's misfortune of being involved in the dotbomb.
One by one his friends lost their very highly paid jobs and over priced houses. When it was his turn, he did not take it very well.
The computer industry while prior to the dotbomb was well paid, it was extremely grueling. Eighteen hour work days, seven days a week wasn't unusual. It was standard. To lose your job when you worked so hard and had taken so many tests, was a harsh slap and a realization that this new industry was not one about community, but about money.
In about month eight of him being told, "No, your technical expertise in the field of computers and your degree are worth nothing." He began to just sit in our apartment and play video games.
Don't judge him in a harsh way. He had in month five dropped his standards. He applied for jobs at:
Ralphs, as a checker.
LAPD, as a cop.
UPS, anything they had.
Circuit City, as a salesperson.
The City of LA, as some kind of computer person.
Every time he got a rejection letter he would spend hours online searching for work and being sad. It made me sad that he was sad. We were ok financially, though he had to give up his beloved SUV. I was not happy that he had purchased this SUV. It was a surprise for "us." But I was not happy that it had to go away owing to us no longer being able to afford it on just my income. We had to downsize our life considerably.  I didn't care about not being able to do the things that we did before. I married him because I loved him, not because he could get me lots of stuff. We had started dating when I was 17 and he was 19.  I told him that this was a good thing our life would be more simple,  but he was still very sad. I would come home everyday and be extremely positive, but I could never get home before the rejection letters.
My solution for a month or so was to hold the mail at our local post office. I thought maybe if I could stop the bad news for just a few weeks, he would cheer up.  I would stop by the post office after work go through the mail,  open it up secretly and throw away any unpleasant news; rejection letters, bills that where late and then I would discreetly seal back any potential good news (waiting lists) and  would place it in our mailbox, so he would think the postman had put it there.
 
As a 23 year old I thought lying was part of being a good partner. We both thought lying was ok.
We lied to his parents about the truth of our situation.
We lied to my parents about the truth of our situation.
We lied to friends, bill collectors, each other, all so we could lie about a type of perfection that only exists in 1950 TV shows.
He was out of work for an entire year. It was very mentally draining for him. It was very draining for me. To watch a person become a shell of their former self owing to just not being able to find a job was one of the most horrible things I have ever experienced. I'm sure it was worse for him.
I remember hearing him telling me how he had failed me and just being so upset that he couldn't even get a call back and just pacing back in forth in our apartment. He never went to sleep, ever.
It pretty much destroyed us.  I never thought anything could have destroyed us. I thought we were perfect, but back then I don't think either of us understood that there is no such thing as perfect.
by Browne Molyneux