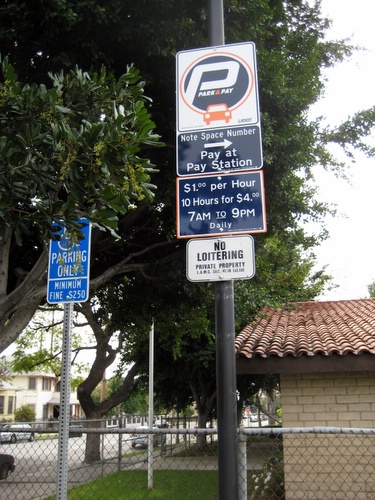 As many may have noticed, the City has decided to jack up the price you pay at parking meters, and those increases have been showing up all around town. In Lincoln Heights, the parking lot behind the 99¢ store and the Payless Shoes, has gone crazy with those crazy fees: the price for an hour has increased by 400%.  One dollar an hour might not seem that much to some, but it's really exorbitant for many working people.
What is the effect of these crazy prices? Nobody is parking in the parking lot. This is around 11:30 on Sunday Feb 15, a time when this lot would normally be almost full from people shopping on N. Broadway. Like many others, I went and found a spot on the non-metered neighborhood streets nearby. This is a crazy sight, If you've ever been in this lot on a pre-increase day, you'll know what I mean.
This situation is worse for my favorite mini-mall (aka, the Lincoln Heights mini-mall with the penguin sign, on Workman) in that if I wanted to buy a pair of Dickies there, I'd have to walk almost to Daly to pay my fee as they didn't find this huge block-long parking lot worthy of meters on both ends. That's a long way to walk just to be an upright citizen. And my civic duty doesn't go that far.
La Crisis is heating up, and those in the cooker are starting to get hot and bothered. At the very least, this new pay scheme concentrates the rage of  a whole parking lot into just two machines. If I know poor working people, and I think I do, somebody always finds a solution to deal with perceived injustices, no matter how minor. And I think these new meters fall into that category.
As a friend recently texted me: "Everyday a new indignity".
PS. There's a meeting in LH to discuss this:
Dear Neighbor:

The increase of parking meter rates in some business districts in the
City of Los Angeles is wrong particularly at a time when people from
our community are being laid off from work and are losing their homes
to foreclosure.

We have scheduled a town hall meeting on the parking meter rates on
Monday, February 23, 2009 at the Lincoln Heights Senior Citizen
Center located at 2323 Workman St., Los Angeles, CA 90031. The
meeting will start at 7:00pm.