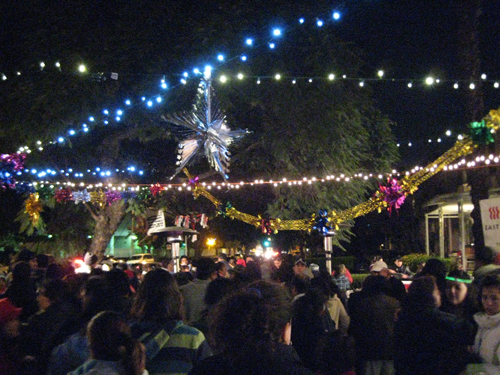 In the spirit of the season, Boyle Heights residents came together to celebrate Las Posadas with family, friends and of course great food. The East LA Community Corporation and Company of Angels Theater Company helped sponsor the posadas that included a turkey giveaway earlier a couple of days before the posadas. This years celebration, the Company of Angels Theater Company help put on a play, Los Peregrinos del Este, written by Xavi Moreno, Directed by Armando Molina and a dramaturgy by Ricardo Brancho featuring members of ELACC "neighbors building neighborhoods action committees. The play and posada were intertwined as it began at First and Boyle at the mariachi plaza and continued down Boyle to the ELACC head quarters with a few stops along the way.  
The posada started simple enough with everyone gathering, lighting candles and getting ready, but just as the festivities are about to begin, A representative from the MTA named Metro Joe comes to ruin the posada. He wants everyone to leave so construction for the gold line extension can continue at Mariachi Plaza.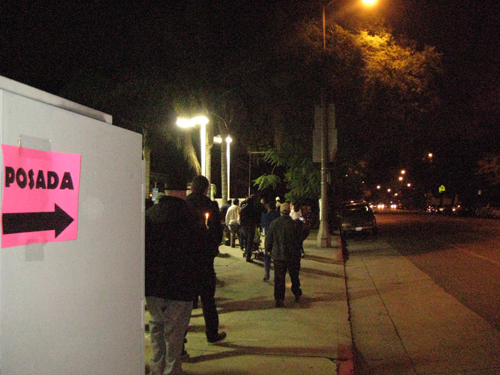 Symbolizing the imminent danger of gentrification facing BH with the gold line, Metro Joe wanted to remove all of the mariachis and street vendors because he considers them eye sores and doesn't want them around anymore. The BH residents don't go without a fight and continue on with the posada making two stops with community residents affected by the gentrification of BH.  
The first stop was at a neighbors house who got evicted because she couldn't afford to pay her rent anymore since her landlord raised the price. 
In between stops, everyone was singing hymns like "Campanas de Bele" and my all time favorite "Burrito Sabanero." It was awesome to hear people singing in unison and hearing the songs through a megaphone. It's awesome to hear the words, "Tuki tuki tukituki, tuki tuki tukita" while walking down the street in the cold evening.    
At the third stop some street vendors described their hardships through song. La gentrification is La Crisis' twin sister but just nicer looking but still a complete bitch.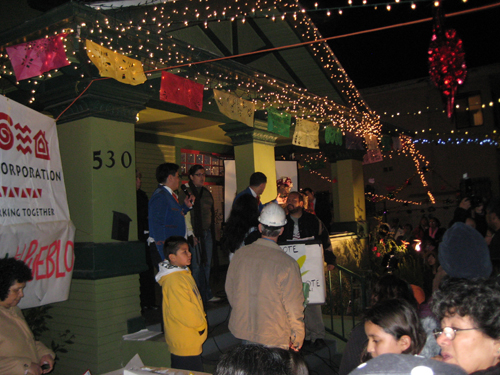 At the final stop had all of the community members uniting to stop La Gentrification de BH. They emphasized the importance of residents knowing their rights and becoming involve in their neighborhoods. By empowering themselves with knowledge, they'll be better equipped to face the oncoming changes that the gold line will bring.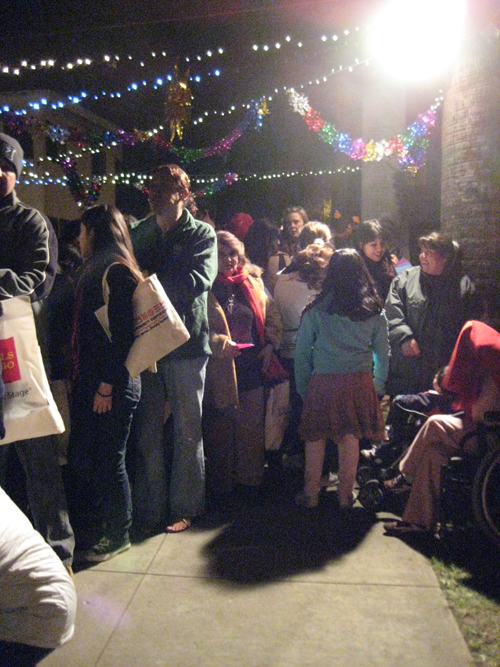 Even though the play ended, the celebrations were just getting under way as tamales, pan dulce, champurado and other homemade foods were served to anxious and hungry residents.
I was kinda ticked off that some people got pumking pie, but threw it away cause they didn't care for it. I love pumking pie and it would have gone perfectly with the champurado. Â 
 No posada is complete without pinatas to bust and this "Eviction" pinata got hit extra hard by all the kids.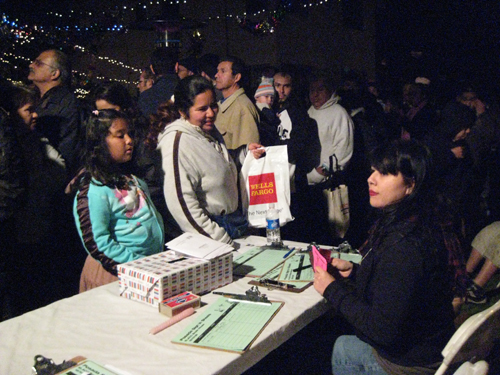 People signed up and got some free merch. I got a shirt with a picture of some kids pouring some kool-aid for their homies.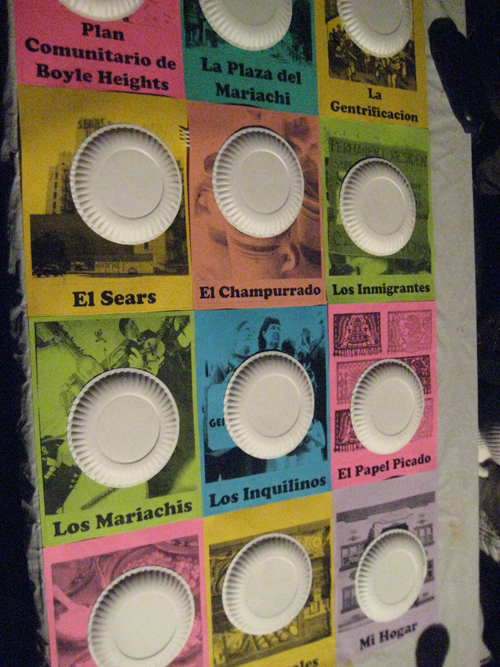 One of the best games they had was "Boyle Heights Loteria."  Whole tables were used as boards and families had the opportunity to win some prizes. One of the twist in the game was that the winners had to yell BH instead of loteria. 
How awesome is this !? Some of my other favorites were "La Lucha Libre" and "La Whittier."
Another game played was dangling donuts on string and letting kids eat them ala hungry, hungry hippos style. Good times.