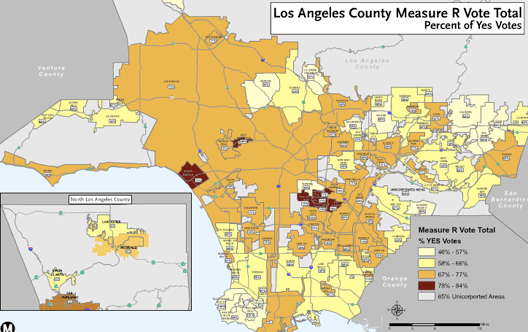 Dear Gloria Molina,
Remember Measure R, the county-wide tax increase measure you tried to prevent from reaching the November 2008 ballot by refusing to support the measure with a 'yes' vote? If I remember correctly, you said it didn't spread enough money to projects in your area, though East L.A. is getting the Gold Line and passing Measure R would help pay for it to be extended further east and increase mobility throughout the Metro L.A. area.
Do you remember Measure R?
Look at that! The heaviest support came from Santa Monica, West Hollywood, and Gateway Cities in your district! Bell, Maywood, Huntington Park, Bell Gardens, Cudahy all voted in support of Measure R in excess of 77%. South Gate was one percentage point away from the so-coveted deep red, and I blame the disconnected Hollydaleans.
Your district supports improved mobility for people, not so much money and projects in their districts. Most of these cities have bus lines that connect with the Blue Line. What more do we want than increased mobility once we get to the Blue Line?
Keep this in mind the next time you abstain from supporting or opposing a measure. It didn't bid well for you here.
Peace and love,
SEM
See map in full size here.