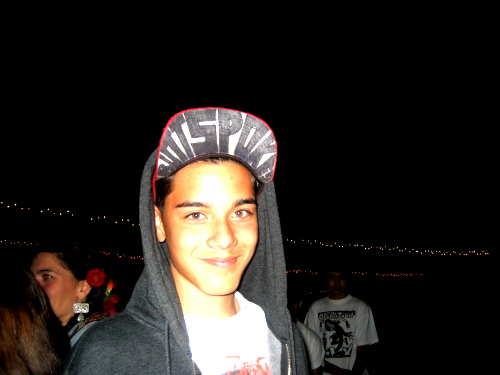 The vato that time forgot? Nah, just another incarnation of the classic cholo/skater look.
Dia de los Muertos at Self Help Graphics.
Botanitas is an ongoing feature bringing you stories and news from various sources, upcoming events and other bits of ephemera that might be of interest to LA Eastside readers. Suggestions welcome!
Last minute weekend edition, click thru for events!
Anti-Prop 8 protests continue in Lincoln Heights
East Los Angeles Rally Sunday!!! 1pm Lincoln Park

PROTEST in the PARK: EQUALITY not H8TE

Sponsored by the Latino/a LGBT Coalition

This Sun Nov 9th – 1 pm

East LA : Lincoln Park
3501 Valley Blvd.
Los Angeles, CA 90031

A peaceful rally of the people. We rally then we march.
In peace and with dignity…

Everyone's voice is needed. Everyone's help is needed to spread the word…

REPOST – SEND TO YOUR EMAIL LISTS & CONTACTS – SEND TEXT MESSAGES
BE THERE! Bring signs, banners, whistles and some friends…
Revolucanto! Una Fiesta de Musica en Boyle Heights is happening tonite. According to the flyer, participants will include artisan vendors, food and music groups playing salsa, cumbia and hip hop.
Nov 7, 2008 7pm-11pm @ Casa Grande 2708 E Cesar Chavez Ave. LA, CA 90033, $6.
Ofrenda 2008 at Tropico de Nopal
Calavera Fashion Show and Walking Altars. Doors open 7pm-Fashion show at 8pm. $25 seats/ $12 general. For more info:
Tropico de Nopal
213.481.8112
Drinkin Heights tonite 11/7, 9pm

Occasional get together of Lincoln Heights neighbors. We gossip, joke and get caught up with the latest happenings in the neighborhood. Sometimes we tell ghost stories. Meeting at a secret Lincoln Heights (it's not DTLA!) location serving beer and mixed drinks. Write me for details: chimatli_AT_gmail_com.
——
"It's always Mexico, Mexico, Mexico"
In case you missed it in the pre-election blitz, The Los Angeles Times found a writer brave enough to tackle the sometimes sticky issue of Mexican-Salvadoran relations here in Los Angeles.
Central American immigrants adopt Mexican ways in U.S.
Like him, most Salvadorans hold proudly to the distinctions of Central America's smallest country: El Salvador's independence day is September 15, the day before Mexico's; the national menu is made up of pupusas and fried yuca, not enchiladas and menudo; Salvadorans flood the dance floor when a band sounds off a cumbia, not as a mariachi band belts out a ranchera.

But sounding Mexican sometimes is inevitable. The two communities have mingled at work, school and church for nearly three decades; they have intermarried, baptized each other's children and cried at each other's funerals.

Some have subconsciously picked up Mexican speech habits. They slip and use common Mexican expressions such as córrele (hurry.) Others deliberately Mexicanize their speech to avoid confusion. They ask the ice cream vendor for helado, not sorbete, and fly a papalote (kite) instead of a pizcucha.

Others refuse to budge.
Read the rest here.
Have a great weekend!