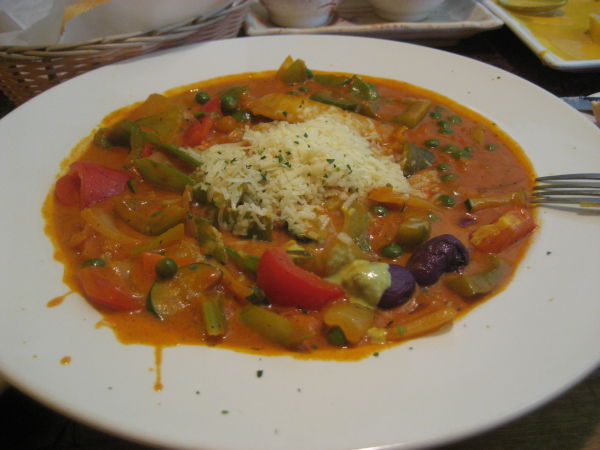 Saltado de Vegetales
I admit this restaurant is faraway from our beloved Eastside but I have been known to venture out of my neighborhood. I've been wanting to try Peruvian food for sometime now and this is one of my Whittier-dwelling brother's favorite place to chow down. There are a few Peruvian restaurants in Hollywood but when I've scanned their menus, almost everything seemed to include meat. (I've also had this problem in Cuban restaurants). I was happy then to find El Rocoto in Cerritos has a vegetarian section on their menu, excellent!
Papa a la Hunancaina (half eaten)
We started the meal with a decadent appetizer, Papa a la Hunancaina, basically a boiled potato covered with a cheese sauce. You can't go wrong with those two ingredients! They also serve a nice crusty bread and two kinds of creamy salsas with your meal. Mmmm, starches!
The pesto spaghetti was recommended by the waitress but that choice would have given me a totally carb meal, so I passed. I instead opted for the Saltado de Vegetales (pic above), a thick, fragrant broth overflowing with snow peas, potatoes, carrots and onions served with a side of rice. I enjoyed the dish but it was far too much to eat in one sitting. I suggest sharing.
I went with non-vegetarians and this is what they ordered: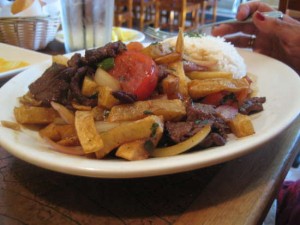 some kind of beef and french fries dish
I'm not too familiar with Peruvian cuisine but it seems to me much of the restaurant's menu reflects the cultural influence of Chinese-Peruvians, hence the chicken chow mein dish below.
Chow Mein
If you somehow find yourself in Cerritos (maybe you're buying a car or something) stop by for lovely meal at El Rocoto. I'm sure it's better than anything you can find in the mall next door.

El Rocoto
11433 South Street
Cerritos, CA 90703
562.924.1919