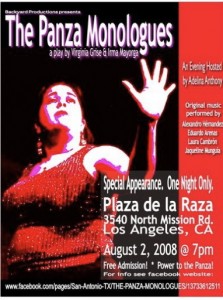 "Before you can get to the cho-cha, you have to talk about the panza."
The Panza Monologues are traveling from San Antonio to Los Angeles this coming Saturday night. It will be a one-woman performance, based on women's testimonios of their experiences—all told though "panza positive politics." This is the only performance scheduled in L.A. It promises to be a great show. And admission is free!
Saturday, August 2
7pm
Plaza de la Raza
3540 North Mission Road
Los Angeles, CA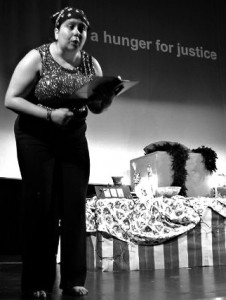 From the FB page:
The Panza Monologues is an original performance piece based on women's stories and experiences about their panzas (tu sabes, the roll of belly we all try to hide). Conceived from conversations and chisme with girlfriends and compiled from interviews and replies gathered from Latinas of all ages, places, and spaces, this one-woman tour de force yields un regalo y homanje to the PANZA as told through the words of women speaking with heart stopping frankness. The stories create a quilt of poignancy, humor, and revelation. Performed in monologue format—and riffing on Eve Ensler's play The Vagina Monologues—The Panza Monologues boldly places these stories of the panza front and center as symbols that reveal the lurking truths about women's thoughts, lives, loves, abuses, and lived conditions.
More info and reviews can also be found here.
If you miss the performance, the Panza Monologues are also published in a book.