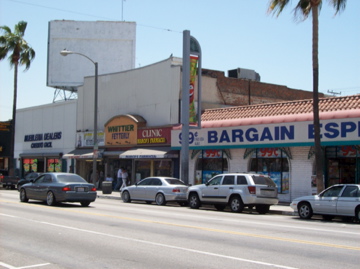 Memories of a Lost Boulevard Series, A Tribute to Whittier Boulevard
Whittier Boulevard Movie Theaters, Part 3.
THE CENTER THEATER
4762 Whittier Blvd.
East Los Angeles, CA
955 South Kern Avenue, just south of Whittier Blvd. is where I lived for most of my early childhood. It was a warm, kid friendly, suburban neighborhood where everything you needed was a skip away. I fondly remember living like a Mexican "Leave It To Beaver" episode on that sweet tree-shaded avenue. My earliest memories are from the age of five, playing with my neighborhood friends and attending Ford Blvd. Elementary School. I hold wonderful memories of exploring all those streets, stores, theaters and back alleys from Arizona Avenue to almost Atlantic Avenue and back. I especially loved riding my stingray bike to Safety Liquors on Arizona Ave. to buy Comic books and MAD Magazines. I'd wear my homemade Batman cape and mask I had asked my mom to sew for me one evening after she had come home from her seamstress job at the sweatshop on Whittier and Vancouver Avenue. She had made it for me happily despite the constant pain in her back from sewing together ladies sportswear all day.
I remember setting up a little vendor stand in front of my house to sell the "Creepy Crawlers" bugs I made on my "Thingmaker". Halloweens were magnificent on my street. I even remember that in those days there were some white families around that we would be friends with. All of us living together in the heart of E.LA.
I learned to cross the street on my own at around age 8 or 9 (streets were very narrow and calm in that neighborhood). And once that whole world of Whittier Boulevard was opened to me, it soon became my constant domain. That ability to cross the street had also enabled me to discover the Center Theater at 4762 Whittier Boulevard, just around the corner from my house.
Whenever I could scrape together the 25c, I'd be in there. I remember being extra careful whenever I'd go see "scary" movies. I'd make sure to come out of the theater during the remaining "daylight" hours because walking home after dark after watching a marathon of "Hammer" or Herschell-Gordon Lewis films would turn my walk home into a panicked, fear filled journey with every "Cucuy" I could imagine chasing close behind me.
The Center was less distinguished than the Boulevard Theater and the stately Golden Gate. It seemed to show mostly the less-than-high-budget type films of the day, but man, those were the most fun to see on a Sunday matinée. I remember that the theater had a unique feature, a hamburger stand that was built into the lobby, that could also be accessed from the street. When I was broke, I would often sit at that food counter and get an occasional peek of the movie in progress when someone would crack open the auditorium doors.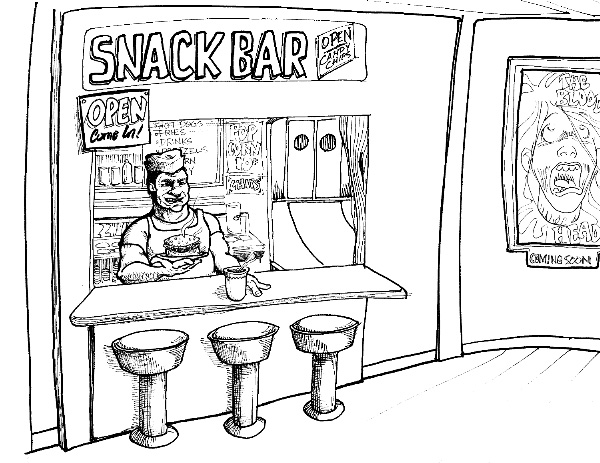 Here's a rough drawing I made from memory depicting the snack bar that served both the inside and the outside patrons of the Center Theater.
This is where one would see the movies destined to become "cult" favorites in decades to come. The Center theater would feature Horror Film Marathons advertising a "Real Nurse in Attendance!" and had VOMIT BAGS distributed to the audience! Fond memories of some films I saw at the Center include: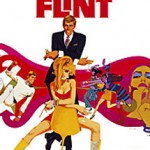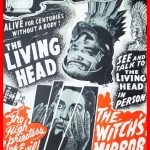 • Wild in the Streets
• Blood Feast / The Gruesome Twosome
• The Beatles' HELP! / Hold On! With Herman's Hermits
• The Ghost & Mr. Chicken /Munster Go Home!
• The Man from Flintstone (With live appearance by the Flintstones!)
• Something Weird / The Conquerer Worm
• Count Yorga Vampire/ Race with the Devil
• Batman! / In Like Flint
• (A cool short skateboarder film from 1965 titled): Skater Dater
In later years, the theater became more and more run down, and my visits became less frequent. I seem to recall that for a time, the auditorium was turned into a wrestling ring and they advertised weekly "Lucha Libre" matches. A comment in the Cinema Treasures site claims that in it's final years, the theater screened All Male Porn Films. I personally never saw that, but that doesn't mean it may not have happened.
I was greatly frustrated and disappointed to find no images available of the Center Theater while researching for this post. Thus, my own hand drawn rendition of what I remember the Center Theater to be like.
I recall that next to the Center Theater was a little butcher shop where my Mom would buy fresh meat or "manteca" by the pound wrapped in pink wax paper with the price scrawled in black grease pencil. I was always freaked out by finding myself at eye-level with the big, cold disembodied pig heads that sat smiling in their glass display case. I'd usually buy a tart green pickle from the giant glass jar on the counter, or maybe a Batman trading card from one of their vending machines.
The Cinema Treasures site has this description for the Center Theater:
"Opened in 1926, the Center had push back seats, and frosted glass running lights which were over six feet tall on the side walls. The upstairs lounge was modeled after a large European drawing room. Painted scenes of gardens could be seen behind tall decorative windows." One comment on the site claims that even "The Three Stooges" once made a personal appearance at the Center Theater in the early 1960's.
The Center Theater building now houses retail stores including "El Indio Amazonico", and a Farmacia/Clinica.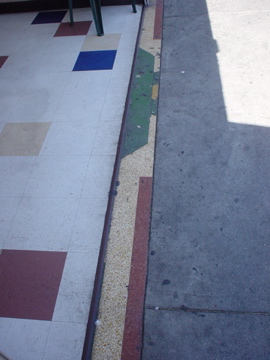 After doing a lot of snooping and searching, I sadly realized that besides the gutted building structure itself, this little strip of floor tiling still visible (yellow, green & red) between the concrete sidewalk and the white colored floor tiles is all that is left of the original Center Theater. The greatest tragedy of all is that, based on my extensive research, no full photos of the former Center Theater appear to exist.