The 24 hr Cafe is a western themed place in the industrial part of Long Beach. This family owned establishment has been serving customers with home cooked meals since the early days of diners and coffee shops.This place pretty much is considered a truck stop and by all means has the elements of one, but I say it's a truck stop with some character!
I've passed by this Cafe many times, but I never really thought about eating in there. One day I just happen to be riding around taking pictures and stopped right in front of it, just like a magnet I was somehow drawn in.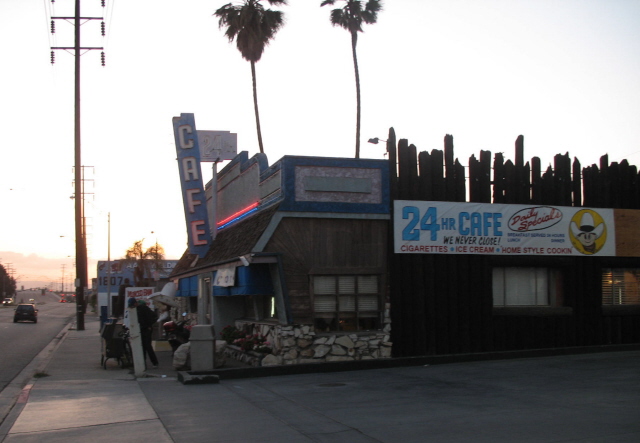 As I walked in I was greeted by the quintessential waitress, she looked liked she been working there for many years, but no matter what she still managed to slip into a black mini and be quite nice. It really felt like a different place and time; like maybe a desolate coffee shop somewhere in Texas around 1953. Who would think I was just in Long Beach!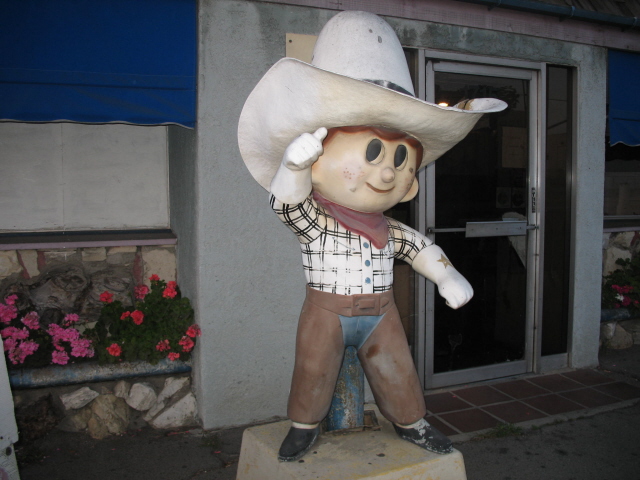 The front of building is adorned with a classic neon sign with only the letter "a" lit up. A dusty looking statue of a cowboy sheriff stood solid near the entrance with a cheerful smile inviting the hungry and tired folks to come in for a bite of some home cooking.
They featured a variety of trucker attractions like, a mini pharmacy inside the front stocked with aspirin for headaches or any other over the counter concoction one might need while on the road.
They also had a Truckers lounge equipped with pool tables and TVs, an outdoor patio to hang out and smoke a cigarette or maybe talk about life on the road. A big parking lot in the back also provided room to park precious semi trucks.
Outdoor patio
The walls were adorned with many pictures and novelties. There were lots of fringed décor wood pieces on all the corners giving it the old western feel.
As I observed and took a seat in the pale yellow booths I noticed there where a few truckers chatting and eating away, from the sounds of their tones they were not from California let alone Los Angeles. I was as much of an outsider to them as they were to me. I could only imagine their routine…
driving many days and nights, sleeping in their truck cabins, finally arriving to the port of Los Angeles to deliver the goods. They are anticipating for that free moment to finally get to the 24 hr café take a shower and eat a home cooked meal, yes the place has showers! Maybe after the meal they can walk down to the strip joint Sugar walls and have some entertainment!
I ordered a coffee and water and looked at the menu, it had tons of choices ranging from typical steaks to chicken and seafood but since I did not want anything to heavy I just decided to stick to the classic BLT (Bacon Lettuce Tomato) I also had a bazaar craving for good old mashed potatoes and gravy so I ordered that too.
While waiting for my food I noticed the table next to me was filled white bowls of wobbling Jell-O topped with whipped cream ready to be displayed in a clear case next to slices of pies. I am usually not one to order dessert after I eat; since I am usually too full by the time they offer dessert.
The food came with good timing, the BLT looked perfect the bread was nice and toasted the way I like it, the tomatoes and lettuce where fresh too. The mash was made from real potatoes and the gravy was not too thick. I finished the last crumb feeling satisfied. I mostly loved the venture of an old but new place.
Even though the BLT can be made easily at home the atmosphere and vibe of the place made it much more appealing.The prices were not too bad, the BLT ran me like $4.95 and the mash was $1.95 plus they have daily specials.
Forward a month I happen to have another BLT adventure…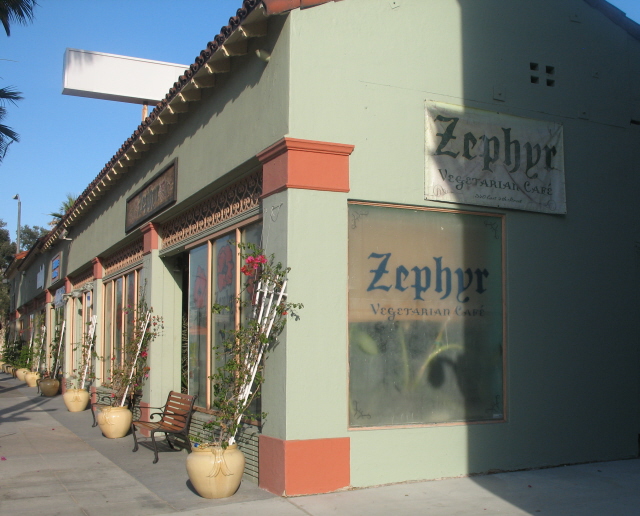 Now I cannot forget I got love for my vegetarian and vegan friends since I know many hang out on the LA east side. I am personally always open to eating most meals prepared in that style I surly do not discriminate!
For me I like this vegan/vegetarian/raw cafe spot on the other side of Long Beach called Zephyr, It pretty much is polar opposite from the 24hr cafe and is located in a busy, growing and gentrified part of downtown Long Beach. I have been there a few times and it is delightfully good.
This place opened sometime in 2005,the building and outside is very charming and neat. As you go inside it is very spacious with lots of tables and couches it really gives out a chill, artsy yet hippie vibe.
Fresh music for your ears plays in background, it even includes a piano and chess table in case you want to show off them skills. There is plenty of art work on display; I guess they have occasional art shows and bands performing.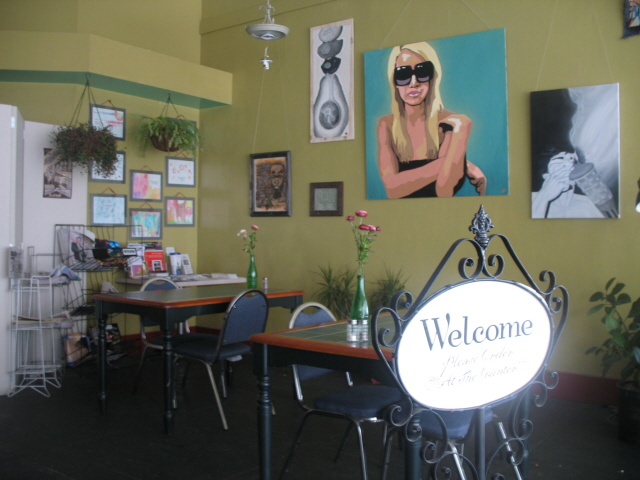 This time I tried their version of the BLT, called Faken Bacon, lettuce, tomato on toasted wheat and vegan mayo; the veggies are supposed to be all organic as well.
I really just wanted to compare it to my first encounter at the 24hr cafe.The employees where very nice too you order at the counter and they bring it to your table.
Instead of my mash and gravy this, faken bacon came with blue chips and fresh salsa. Instead of coffee I got a fresh brew of iced tea.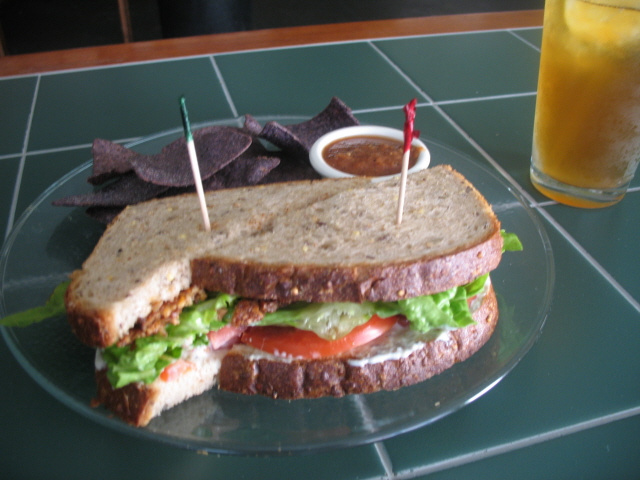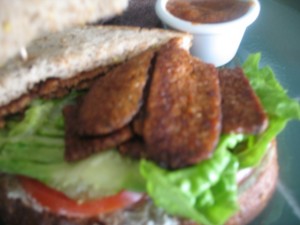 Picture of Faken ass bacon sorry it is kind of blurry
As I munched away I did not miss the real bacon it was just as good. The salsa was OK I had better. It is slightly pricier then 24hr cafe, but mostly because it is healthier and organic even though I think overall it should not cost more to eat healthier, but it is what it is.
So weather you want to eat some chicken fried steak and mashed potatoes at an old school place or sit back and play a game of chess while eating your garden burger, make your choice here you go…
24 Hour Cafe
1715 W. Anaheim St.
Long Beach, CA 90813
562-437-2908
Zephyr Cafe
340 E 4th St
Long Beach, CA 90802
(562) 435-7113Hours
Sun., Mon., Tues., Wed., and Thurs.: 11am-4pm
Fri. & Sat. 11am-9pm
now offering dinner specials and evening table service