I was supa excited to get to the Glow event last Saturday. How could I not, it was at the pier, all night long, tripped out art and great music mixed by the likes of Garth Trinidad and Raul Campos.
You've probably read how horrible it was gett to SaMo. I got off on Cloverfield and headed south to my homie's in Venice. We hopped on bikes and rode up.
It was nuts. Some people do well in this situation, others don't.
I had a great time. The highlight was Raul's set. He literally gave me chills when he dropped Aly Us' "Follow Me." It was so hippy, so we are the world. Everyone on the pier felt the spirit. I think.
After a while I stepped behind the DJ booth to see the action from back there. At one point the crowd started chanting Raul's name: "RA UL, RA UL, RA UL." He couldn't have smiled any bigger.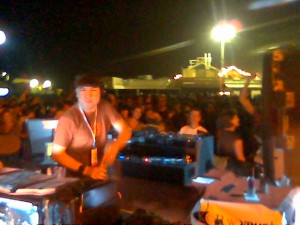 Raul later dropped Carl Craig's "Throw" and I knew it was going to get the crowd even more into a frenzy. His next mix killed it. He dropped one of the biggest records in the world, Bob Sinclair's "World Hold On." For the chorus he cut the volume and let the people sing it, then slammed back into the beats. Needless to say the energy was so high it scared SaMo PD and they shut Raul's set down 1/2 an hour early. Seems a Chicano can't do his job well and be appreciated for it. He might start getting cocky and start asking for his land back. Cops claimed there were too many people on the pier.
After that I hung out and ran into old friends and saw some old ones. Rode back to Venice and called it a night.