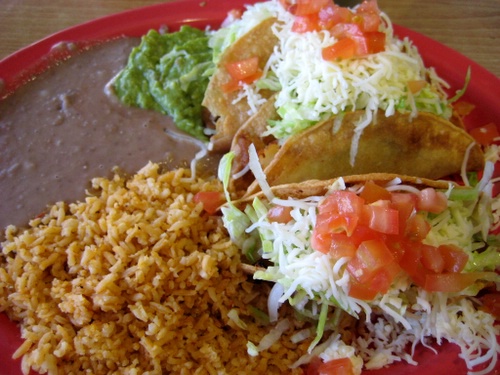 You meat eaters don't know how hard it is to be a vegetarian wanting to go out for Mexican food; mostly the choices tend to be breakfast dishes, bean and cheese burritos, enchiladas de queso, chiles rellenos, or the always boring Vegetarian burritos which are basically the bean and cheese with some added lettuce. (Don't even mention vegan, that gets much more difficult.) So when a place has potato tacos it feels like they care about us carrot munchers, but we know its just a cheap and easy item to include on the menu. But still, I always appreciate seeing these on a menu. So when I finally had the courage to eat at the place named "My Taco" (jajaja!!!) I was quite blown away with the tasty tacos de papa.
Though they were a bit overloaded in lettuce and grated cheese, as you can see from the pic above, the base of this simple food was well done: a crisp, freshly fried tortilla shell stuffed with a creamy potato filling. Seems that should be easy enough to do but many places manage to get this basic part wrong, giving you some floppy and greasy tacos instead.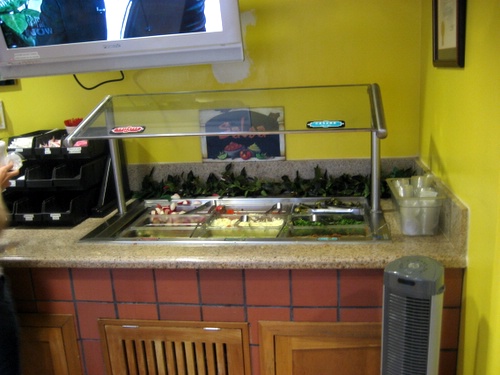 Another thing to like about My Taco (giggle!) is that they have a salsa bar with some decent salsas and the usual suspects of rabanos and escabeche. Add the required side of beans and rice and for only $6.50 you have the makings of a fine meal. My first plate of tacos were so tasty I thought maybe the Taco de Papa Crown was going to be landing here, but I figured I'd go back and try the wares from the current title holder…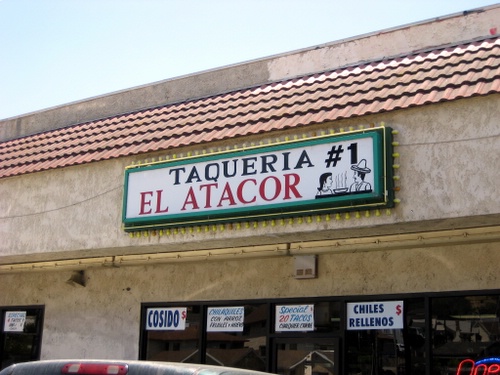 El Atacor #1! I've had more than my fair share of their potato tacos but I had to stop consuming them as they used to sit quite heavily in the stomach, but it was time to give them another chance.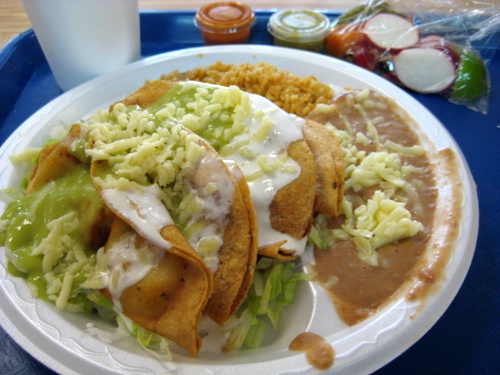 Uh, still looks kinda heavy but they're done much better than what I remember, I think they turned up the heat on the deep fryer since they're crispier and hardly greasy. I had been avoiding these cuz I thought they might be cooked in animal fat, but I asked and it turns out they only use corn oil. And the taste? At only $4.85 you ought to find out for yourself. Let me just say that the crunchiness of the outer layer works perfectly with the steamy-creamy carb filling. I also like how they put the lettuce underneath so you can decide how much of it you want to eat, which also makes the fried half-moons easier to eat. The liquidy guacomole taquero goes much better with these tacos than it's big brother regular Guacamole, sometimes this salsa is not just a cost cutting measure. Yes, that's 4 tacos per order! After careful consideration, and a second and third visit to My Taco (snicker!) plus a return to Atacor, I think the crown is staying put. They are both good examples of the dish but Atacor can still hold its own. I suggest you try them both and see what you think.
If you look at the upper left hand corner you'll notice they also have the sense to show the Saturday afternoon matches of Futbol Mexicano. I think this was a match up between Toluca and Cruz Azul. (The cementeros went on to lose during the final championship game against Santos last weekend.)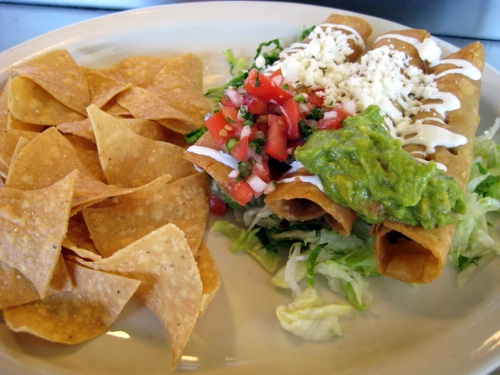 One place the Crown is certainly not going is west of the river. At Loteria Grill I asked about the potato tacos which turned out to be regular "soft" tacos. Nah, I don't want that, I want them like tacos dorados. Instead they gave me taquitos. Sure, they're tasty, as it tastes like they add lots of butter to those potatoes with poblanos. But a side of chips? With a plate of fried tortilla rolls? Pfft, que lastima. Oh yeah, $7.50! Que lastimado.
My Taco (snort!) 6300 York Blvd Highland Park 323.256.2698
El Atacor #1 3520 N Figueroa #4 Cypress Park 323.342.0180
Loteria Grill 6333 W. 3rd St (Farmers Market) 323.930.2211