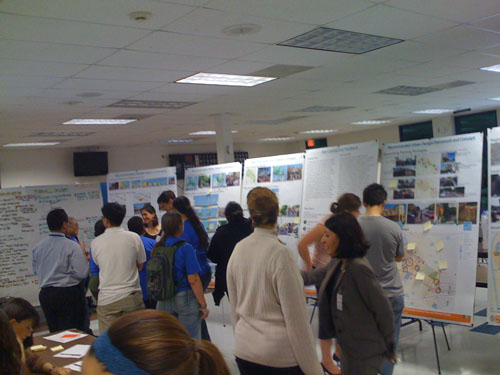 I attended one of the workshops held by the city to, and I quote, "share preliminary draft recommendations with stakeholders and to seek public input on the Boyle Heights Community Plan – this is your opportunity to help shape the physical future of Boyle Heights!" And believe you me I did. I ended up meeting two other people who wanted to share their two cents in what the future of Boyle Heights maybe and what planners are thinking of turning BH into. Shout out to reader Rob who was there and offered some nice company.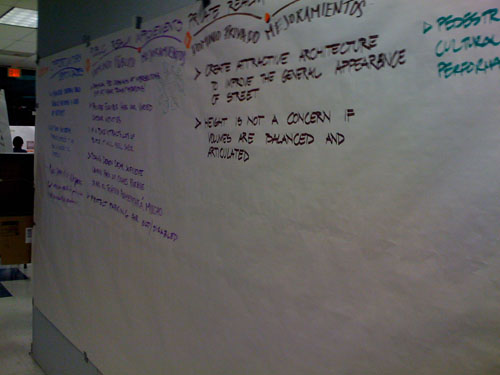 I was totally surprised, but glad to see the East LA Community Corporation out and about helping residents at the workshop by translating and helping them understand the proposed changes coming to BH. That's because the majority of the information and city planners on site only had information in english. Out of the entire room only two maybe three city planners there were able to speak spanish fluently. While they answered all of my questions and jotted down notes about what I said, how can you not have english to spanish translators and other info in spanish in a predominantly spanish speaking neighborhood ??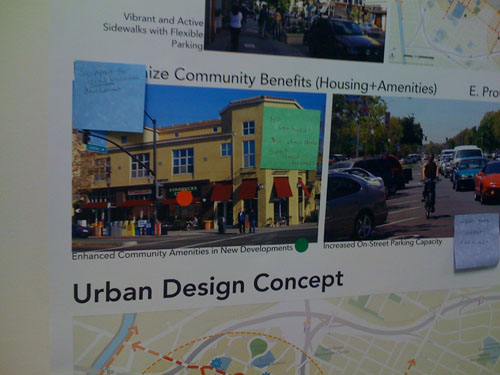 While I won't regurgitate my thoughts and opinions about the workshop, I will say that the planners are enthusiastic about hearing what BH residents have to say about the proposed drafts and what it means for BH future. As you can plainly see, I put a red sticker, which means bad, over a starbucks. The city planner got a good laugh outta of it 😉 Other people expressed the same feelings about bringing in stores like that, but one solution I liked was that I wouldn't mind having a coffee shop or healthy super market, but one that isn't name brand and maybe more along the lines of a mom and pop store that fulfills the needs of the residents who have to shop outta BH for those kind of necessities.   
All of the people there contributed a lot of great input that included preserving BH history and essence and that includes the street vendors and taco trucks. At the same time I saw plans that would include mixed income housing that pretty much open the door for "outsiders" to come in and change things to their needs rather than what the community needs. I highly encourage other BH residents to attend the next to workshops being held that are closest to them. Your input is greatly needed and it's also a great way to know what the city is doing about the future of BH. 
WORKSHOP #3: SATURDAY, FEB 7TH, 2009: 10:00AM – 2:00PM 

Costello Recreation Center (Gymnasium)

3141 E Olympic Blvd, LA CA 90023  

WORKSHOP #4: MONDAY, FEB 9TH, 2009: 6:30PM – 9:30PM
Hazard Park (Gymnasium)
2230 Norfolk St, LA CA 90033
Rogelio Flores, City Planning Associate
Boyle Heights Community Plan Program
Department of City Planning, City of Los Angeles
200 North Spring St., City Hall Office #667
Mail Stop 395
Los Angeles, CA 90012
Phone: 213.978.1478
Fax: 213.978.1477